As I am currently chilling (and working) in Bangkok I have decided to bring the Jelly into that great metropolis.
Jelly is a semi-weekly work-together, and you're invited!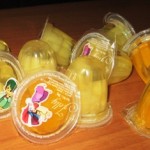 The first session two weeks ago was definitely a successful event. Locals and expats were joining and sharing all kind of stories. Apart from development talk the probably hottest topic was SEO.
Wanna join our next Jelly too?
Bring your notebook and some work


Jelly in Bangkok, Thailand
Thanks everybody for coming! Here are some pics.